Advertisement Photography
Who is the client, or company you are representing? -The client I will be representing is Ariana Grande and the debut of her perfume.
What is the product? -Perfume by Ariana Grande
Who is the target audience? -People who enjoy sweet perfume.
Where would you expect to see this advertisement? -I would expect to see this assignment online and in stores.
What camera will you use? I will be using a Canon 5d
What kind of lighting are you going to use to make this look professional? – I will be using hot lights and colored gels to create a color gradient.
What props do you need? – The perfume itself
25 Ways to Jump Start Photography
After reading and analyzing the different tips that I can apply to my photography, I chose 10 different techniques that I would use are:
Try to use a new lighting technique
Look at popular photoblogs and get inspired
Use a prop in an interesting way
Shoot a gorgeous model
See an Art show
Treat yourself to "Photo inspiration" coupons
Shoot for a holiday theme
Listen to my favorite music
Shoot my favorite food
Tell a story in 5 different pictures
Broad Museum Photo Critique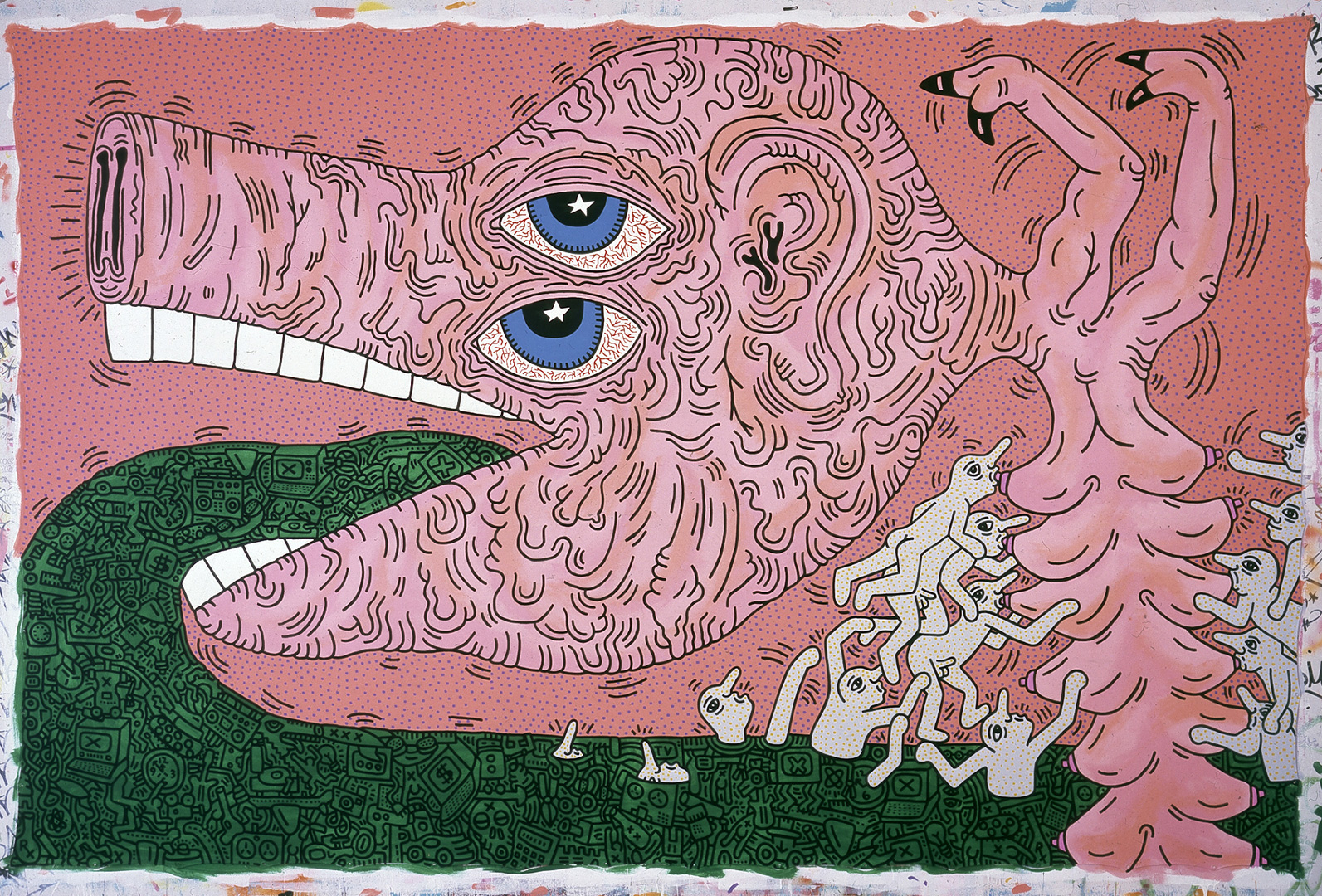 This photo was created by Keith Haring and it was the first photo that really caught my eye. In the photo it displays a huge pig like figure throwing up money and having little beings suck on its breasts. At first it is a very disturbing image and was afraid to critique it. However when you stare at the image longer you begin to understand the concept and see the realism entangled in the photo. I believe the pig throwing up the money relates to the capitalism in our society and the little beings relate to the humans being forced to feed off our capitalism and other higher companies. I thought this was a very creative and unique art piece.
Social Media Trends
Show Your Audience Your "Reel" Brand Personality with Instagram Reels or TikTok: This is explaining that you and your team should work together to create Reels or TikToks for your brand. Most videos are about 8 to 12 seconds long but you can adjust as much as needed for your advertisement. These skits could be a variety of "how-to's" tutorials , educational videos, quick tips and you'd like your advertisement to be high quality. So, get some nice bright light and shoot.
Make New Friends, But Keep The Old: Don't Leave Long-Form Video Out: This passage explains how great it is to do short advertisements for your brand. However, it is even more great to have a longer video dedicated to your brand either on YouTube or another broadcasting source. That way you can educate your viewers and advertise your brand.
Stories Capabilities Are Not Only Here to Stay, They're Growin: This passage describes how the trend of "stories" on each social media and broadcasting apps are growing. Most modern social media apps has an option for stories where creators can post online and it will be available for the next 24 hours. Most story widgets are on the very top of the media page so viewers will not miss them. This is a great way to do some quick advertising.
Replace Face-to-Face Time with Screen-to-Screen Time: Under the circumstances of Covid-19 brands are forced to do most of their live events shifted to online live events. With apps like Youtube live, Instragram live and broadcasting apps we are capable to have a huge live broadcast for your brand. Evidence links that live videos get seven times more reactions and 24x more comments from the audience.
Make eCommerce Even Easier: Social Media Becoming a One-Stop Shop: With the social media market up and rising, online shopping had definitely raised with it as well. online shopping has actually been integrated with social media apps like Instagram and Linkedin. There are pages and places dedicated to live shopping and advertising items for sale. So you want to use that to the best of your ability.
When It Comes to Content Strategy, Knowledge is Power: A strong strategy is a must when you are trying to grow your brand. Modern society has turned to media apps like Instagram and Snapchat. A very likely way to grow your brand would be utilizing those apps and staying creative and original.
Just Because You Can Go Text-Heavy on Facebook, Doesn't Mean You Should: Although it can be very easy to go text crazy trying to explain and advertise your brand with lots of explanations and catchphrases, it is better not to. Evidence links to brands that advertise and use large and bold captions and facts catch the audiences quicker and longer.
Keep What's Behind the Brand and Behind the Screen at the Forefront: People: Modern society now has united with brands that showcase positive backgrounds. Most company brands that express their alliance with minority groups or social issues tend to get a higher attention rate than other companies. Make sure your intentions are clear and direct to your audience.
Jobs on Indeed
After extensive research on jobs I'd be interested in on Indeed here are a few that caught my eye:
-Studio Photography Assistant (Los Angeles, CA)
-Photo Studio Assistant/ Prop Stylist (Ontario, CA)
-Studio Manager/ Photography Assistant (Los Angeles, CA)
Most of these jobs listed are assistant jobs which I feel completely comfortable with. The job descriptions explained that I would have to organize and set up photography backgrounds, assist the photographer and customers. The qualifications I would need for all of these jobs is at least 1 year experience in photography, experience with customer service and just to have a creative mind. I thankfully meet all of these requirements! The reason why I chose these job listings is because I love assisting other people and communication with others. I feel like being an assistant would help me improve my photography skills since I still am a beginner to a certain extent. Most of the jobs include me conversing with other people which brings me lots of joy too because I am a very talkative and outgoing person. I feel like this will benefit both my photography and communication skills!
The Canon Lens Experience
The first photographer I chose to talk about was wildlife photographer, Ralph Lee Hopkins. Hopkins was born in New York however, he found his permanent home in Arizona while attending college there. He attended Northern Arizona University and obtained his Master's Degree in geology. He gained a huge amount of hands-on experience in nature during his college period. Hopkins was able to travel to such unique places during expedition's and adventures to take amazing wildlife photography. What isolates Hopkins amazing photography to other wildlife photography is because he manages to capture his subjects in such an incredible way. He somehow captures the animals in action and it causes the views to feel like they were there at the time the picture was taken. I truly suggest taking a look at Hopkins photography just to see his beautiful artwork. What truly inspired me when I was looking through his photos was how eye catching they were. They had such great composition and focus. The pictures definitely caught story if animals more than he just captured a photo of animals.
Another reason why I chose Hopkins as the first photography is because I am fascinated by the way animals live. I would love to become a zoologist and work with wild animals at a sanctuary. So that too is another reason why I favor Hopkin's photography. I applaud Hopkin's creative thinking to take incredible pictures. He explains how his photographer career he was able to support him to traveling to so many unique places. He was visited the Galapagos Islands, Baja, California and The Artic and Alaska. This is amazing and I too have a quirk for traveling. So hearing about his experiences about traveling to those remote locations was so awesome. Here are some of my favorites shots by Ralph Lee Hopkins:
100 Most Influential Picture Response
This photo was taken in 1972 during the Vietnam War. This picture was a result from the Americans dropping Napalm. An American tactic during the war was to drop load on forests, or areas where they assumed enemies would be. Napalm is a highly flammable substance, that was able to leave third-degree burns on human skin in an instant. The photographer who took this powerful photo was Nick Ut. He wondered why the young girl was running down the street with no clothes after the bombing. He soon realized the girl had Napalm on her body. He tried to help her by pouring water on her which seem to make things worse. They had tried to take her to a hospital but understood that the young girl would not survive this pain. They then transferred the young girl to an American Facility where her life was saved.
I believe this disturbing photo is such a powerful photo because it truly depicts the horror that went on during the Vietnam War. Just taking a good glance at this phot you can truly pick out all of the things that look so bad in this photo. In the background the sky is filled with dark black clouds from the Napalm. Everyone in the photo looks extremely stressed. I feel like the story behind it is so much deeper. I am not sure why America feels the need to drop such a highly flammable gas on areas as a tactic. It is sickening to not only the people but the environment as well. I cannot imagine the extreme pain this young girl must have endured during this picture. It is such a blessing that the young girl survived in this photo. I understand there were probably so many disturbing events that happened during the wars that were not captured. I also found it highly disrespectful that Nixon assumed the picture was 'fake' when he knew what US tactics were being used and understood the consequences that would come with them.
Why is Photography Important
After reading the informative article about why photography is so important, I realized the true identity of photography. It described photography is important because it allows you to see pictures from different perspectives. It also allows us to view history, which we wouldn't be able to remember without photography. Additionally photography is an easy hobby to get into, you are able to take pictures just off your cellphone! You are also able to capture moments with your friends and family. Which could be saved for memories. Photography is a beautiful form of art and way to use your creative mindset. But photography is not only used as just art. Photography is used in plenty of science related jobs. Taking pictures of the atmosphere, cells, wildlife and other related topics.
The reason why I believe photography is so important is because it is a way to capture moments in everyday life. Not only used to capture moments but it is also a way to interpret your creativity in an artistic way. I am very grateful that I am open to the field of photography. Ever since I was a young child I have always been interested in taking photos as a hobby. I am open to all different types of photography and I love exploring the different types of photography. Photography is also important to me because it always to teach yourself, your community and others. For example last summer during the powerful black lives matter protests were taking place, there were plenty of photographers capturing these strong moments. I am sure in the next couple of years when all those pictures are printed in a textbook our future generation will develop strong opinions on it. That is the power of photography.
Silver Eye 2021 List
After analyzing the beautiful artwork from multiple photographers I picked 2 photographers whose art truly poked at me. Starting off I would love to give every photographer a pat on the back for their art. It is unbelievable the stories and emotions that could be spilled through a simple photograph. The top 2 photographers on this list in my eyes would be NYDIA BLAS and Images – The work of JonHenry (jonhenryphotography.com). These lovely photographers caught such deep emotions in their photos and truly spoke to me. Starting off with Nydia, I adore the way her website is organized, straight to the point with her artwork. Each of her projects are faced with odd and beautiful portraits and other photos. There is a sense of eeriness in her portrait photos. Each of her models seems to be telling a deep and emotional story, this is exactly why I fell in love with her photography. MY favorite project from her would be "for black girls who want to die but never hurt themselves" this is such a strong title for the beautiful pictures taken. It definitely makes me wonder why she titled it that? What was the point? What was her goal? Why did she choose these photos? Here are some eye catching photos from this project:
Another photographer who caught my eye was Images – The work of JonHenry (jonhenryphotography.com). The reason why his artwork was so eye catching was because he is bringing activism into it. One project on his homepage was about the innocent black lives lost. He asked a question, Whos next? Me? My brother or sisters? It is so saddening to see these humans being afraid for heir lives when they are no different from anyone else. In his photos it displays people carrying an unconscious black man. I think this speaks true words of the reality that we are facing in this country. You can see the expressions of the people's face from the photos, the anger, the sadness that lingers from it. His photos are so deep with pain they truly help you understand what must be going on in African American minds. We all need to unite to yell back at our country, "Enough is Enough" we have to stop killing our innocent citizens just for the color of their skin. Here is some of his eye catching work:
BH Photography Shopping Spree
After extensive searching on the BH photography site I found everything needed for my landscape and scenery career!
-Sony Alpha a7R III Mirrorless Digital Camera with 16-35mm f/2.8 Lens Landscape Kit $5,425.05
This Landscape kit is perfect for starting my landscape photography career! I'm choosing to pocket rest of my money to keep it for a rainy day, or for future expenses.
"Why being a Photographer is (probably) the best job in the world." Read and Write.
After reading this article by Jack Alexander, I discovered the wonderful truths and perks of what professional photography can bring you. With our fast and updated technology photography has been an easy hobby to access even with just your phone. When you are bored, or in need of a task you can always choose to go out and take pictures. There is no endgame, there is no stop to photography because there is such a wide range of what you can be taking pictures of. You can honestly take pictures of everything, the power is in your eyes and what you decide to do with the picture. Alexander also explains the benefits of photography because it is constant, he compares his job to a few of his friends who are actors, and explains the depressing truth when actors aren't on set. But in photography there is no end, the possibility of new and interesting pictures is endless. You are also in charge of your own hours, own gigs and own business. The power of photography is infinite unlike other careers where you are under someone's wing or have strict hours. You are completely in control of your own decisions when you choose photography as a career. Furthermore Alexander reassures the audience who prefer having routine and schedule that there is a career path for that as well. He explains how he is incredibly productive during the late hours and how his photography career has met his need to work during those hours. That is something to keep in mind when you are thinking about a career. You want to be able to do something that yo love that fits with everything you stand for. Another reason why you might want to choose photography as a career is because of the adventure and experience that comes along with it. There is a variety of different tasks and responsibilities to do as a photographer. Photography isn't always about pictures but about partnerships with people, traveling, social networking and so much more. You are also prone to meeting wonderful photographers along the way who share the same interests as you and could make friends for life. Additionally, photography is a powerful way to explore your creative mindset. You are completely in control of what you choose to do with your subject and photos. No one can necessarily tell you if you're doing it right or wrong and that is the beauty of it.